eSight 3, pushing the boundaries
of vision technology
Vivid Sight
Clear vision made possible by an assistive technology made up of a leading edge camera, liquid lens and high definition display powered by smart algorithms. The result? Clear, enhanced vision of up to 7 lines on a doctor's eye chart for many who are legally blind.
Mobility
Sleek and light design for comfortable all day use. Uniquely designed to incorporate your remaining vision, for a more safe, mobile use. Featuring patented bioptic tilt, flip up and down the eyewear to move between natural and enhanced vision.
Vision Control
The easy-to-use remote control connected to the assistive technology puts visual independence at your fingertips. Adjust contrast, brightness and zoom to compliment your vision needs and move between reading, TV, indoor and outdoor modes.
How does eSight work?
eSight eyewear's low vision device functions by stimulating synaptic activity from the remaining photoreceptor function of the user's eyes. Using a cutting edge camera, smart algorithms and high resolution screens, the assistive technology can provide the brain with increased visual information to naturally compensate for gaps in the user's field of view.
eSight is a Class 1 Medical Device.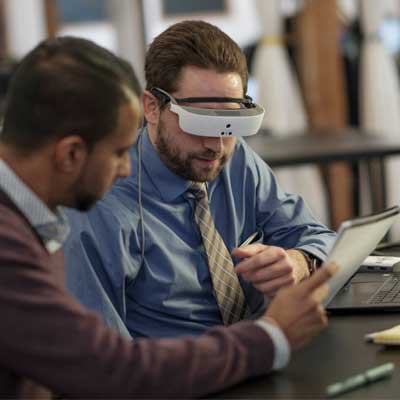 Clear vision
A high-speed, high-resolution 21.5 MP camera captures and then projects real-time footage onto two OLED screens in front of the  eyes. A handheld trackpad affords the user control of color, contrast, focus, brightness, and magnification to optimize the remaining vision. Prescription lenses can be crafted and installed directly into the unit.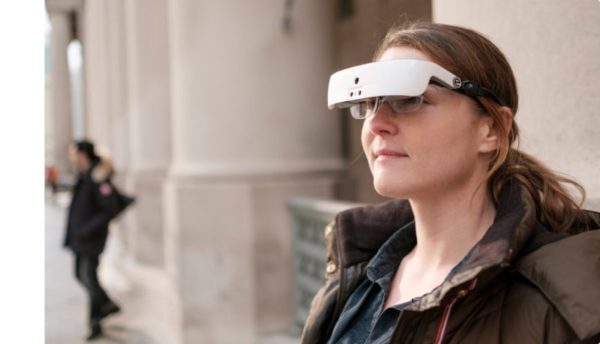 Near or far, up or down
eSight's low vision device provides the flexibility to read books up close with the same ease as seeing a crosswalk sign from a distance. The patented Bioptic TiltTM technology, made possible by eSight's uniquely non-immersive design, allows users to be mobile and easily adapt to face-to-face interactions.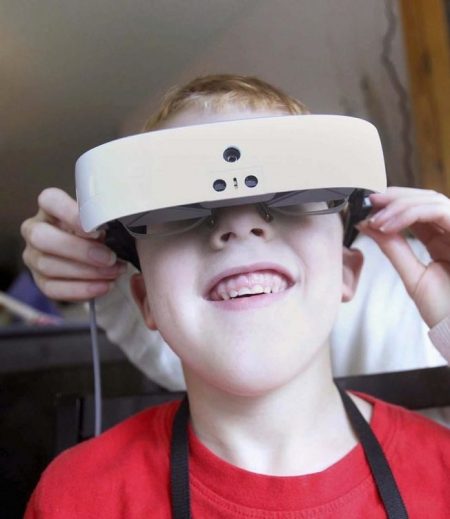 Who can benefit from eSight?
How to try eSight
The best way to try eSight is with a home evaluation. You'll get to try the device in the comfort of your own home, guided by an eSight Specialist.
Fill in a simple online form on our website
Speak with an advisor to see if you qualify for an eSight Evaluation
Receive your eSight within 5-7 days
Try eSight with video support from an expert
Keep your eSight at the end of your evaluation, and join the eSight coaching program
Pricing
Included in your purchase:
Lifetime software upgrades
Customized prescription lens inserts
5 hours of personalized coaching
eProtect warranty for one year
Extended warranty & coaching options available
Paired up with one of our certified coaches who will help you discover some amazing things about your new eSight glasses
Frequently asked questions
The best way to try eSight is with our home evaluation guided by an eSight specialist, or find a distributor near you.