Improve the lives of your low vision patients with eSight
Versatile Low Vision Aid
Empower your patients with eSight, the clinically validated, all-in-one solution for low vision patients, proven to enhance vision.
Meet Dr. Robert Devenyi, a renowned Ophthalmologist who has seen the life-changing benefits of eSight's low vision aid for his visually impaired patients.
How does eSight work ?
Hi-Res camera
The high resolution video camera of the head mounted display captures everything in front of your patient. Range finders allow the eSight 3 to autofocus quickly, almost as fast as the human eye.
Eyes stimulation
eSight works by encouraging the compromised photoreceptors to respond to light, helping your patient's bypass part of their vision loss.
Advanced algorithms
By embedding two high-definition organic LED displays in the device to share visual imagery in real time and using advanced algorithms to adapt that imagery, eSight gets more out of your patients retina.
Versatile settings
Your patients have the ability to magnify up to 24 times and change contrast and colours to adapt to their specific eye condition and needs.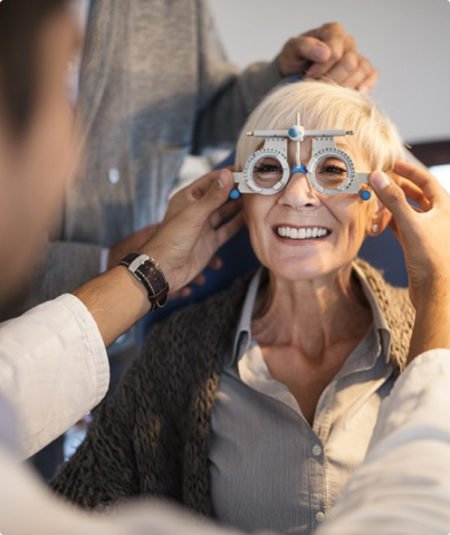 Clinically validated
"The Effect of a Head-Mounted Low Vision Device on Visual Function," also known as "The eQUEST" study was completed in collaboration with researchers at six leading low vision research and rehabilitation institutes.  The study showed that eSight's low vision aid was able to improve distance acuity, reading performance, contrast sensitivity, facial recognition and ADLs (Activities of Daily Living).
The study also demonstrated significant improvement when using the low vision aid including :
a seven-line gain in distance acuity

100% mobility retention

12 letter contrast improvement
Read the study in Optometry and Vision Science.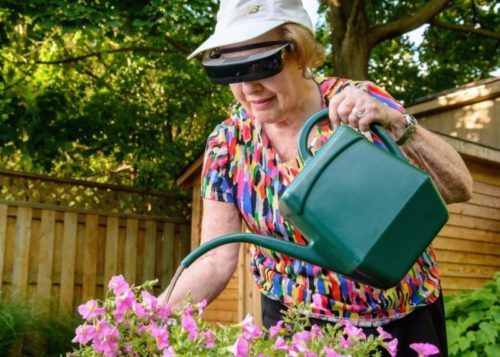 Inspected and Registered by Public Health Officials
eSight 3 is a Class 1 Medical Device
Can your low vision patients benefit from eSight ?
Many eSight eyewear users experience one or more of the following: 
Central scotomas, blurry vision, blind spots and more.
Most have a visual acuity ranging from 20/60 to 20/800, but in some cases have reached 20/2400.
Join our exclusive network of vision professionals
Whether you're a low vision optometrist or low vision ophthalmologist, help your low vision patients with our eSight Partner Program.
Be a life changer for your visually impaired patients
Introduce a best in class technology for acuity and mobility, and help your visually impaired patients discover this life-changing low vision aid. eSight users commonly live with common eye conditions including macular degeneration, diabetic retinopathy, Stargardt's disease and more.
Establish your technology leadership
Distinguish your practice as a leader in your field by providing advanced solutions for low vision patients. You have an opportunity to share meaningful information with your visually impaired and your community, conduct eSight evaluations and contribute to the improvement of low vision aids.
eSight resulted in immediate improvements in all visual function measures, with activities of daily living showing improvement with training. Self-reported outcomes suggest that visual abilities are greatly improved when wearing the device.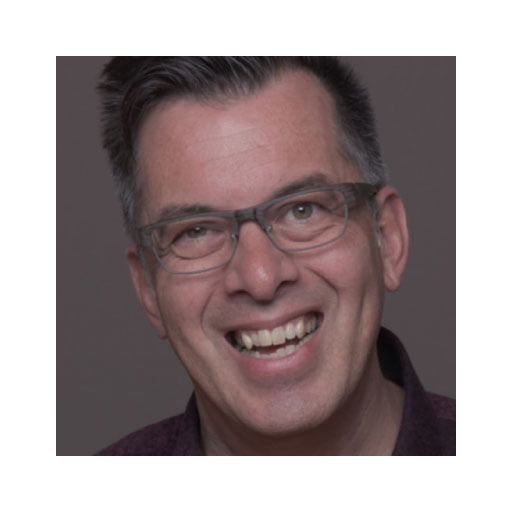 eSight opens up a whole new realm of possibilities for low vision patients and allows us to help them in ways we never could before.
The results of our study indicate significant improvement in a number of validated visual performance measures. More importantly, study participants reported much improved day-to-day visual ability when using eSight.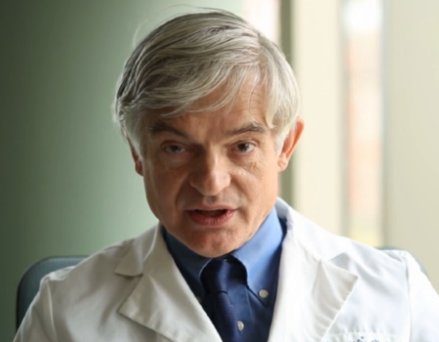 Every aspect of eSight has been designed with an in-depth knowledge of the needs of visually impaired users. The hardware, the user interface design, and the image processing algorithms all work very well together to create a complete, well thought-out system.